Special Notice
Tracey has moved to Hong Kong to experience a new life in east Asia.
We apologise that we no longer provide wedding / hairstylist services in Cambridge.

You can follow Tracey on her new Hong Kong Instagram
CreativeCutzHK
Step by Step: Bride's planning guide
---
You have booked your venue, and purchased your dress. Now it's time to focus on your hair...
With 19 years bridal hair experience, I will assess, guide, and advise you as necessary.
The count down begins...
6 months
You may be thinking
it's a while away till my wedding
, but what if you want to make some changes. A new cut or even a colour. Now is the time to do it. This way, should you change your mind about it we will have time to make it right. If you love your new style, then perfect! You have the new look for your wedding day. It is also a great time to book appointments for your bridesmaids, your mother and mother in-law too. Wedding hair takes time, so don't be one of those brides fighting for a Saturday morning slot. Book well in advance to avoid undue stress. Remember, you are meant to enjoy the whole process... It is also a good idea to flick through magazines or browse relevant websites to gain an understanding of the styles that work best for you and your wedding dress, veil or other hair accessories you might have. Create a file of your ideas as a wedding hair portfolio. You can then show me, everything you have to ensure we have a good idea of the look you wish to achieve.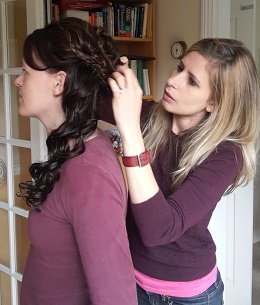 4 months
It is an important time to look after your hair. Well nourished healthy hair will not just happen. You need to care for it with treatments, hair masks, and moisturise. This will add shine and repair any damage, to make it look gorgeous, bouncy and luscious. We don't want dull lifeless hair. Do get in touch with me for pre-nourishing appointments.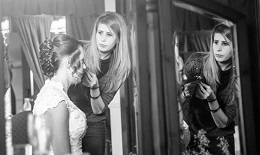 3 - 2 months
The day has come to book your trial. This should ideally take place 3 months prior to your wedding. Your bridesmaids may have ideas, so you may want them present during your trial for valuable feed back. A trial with me is an absolute must. You can feel relaxed while I discuss with you what to expect on your wedding, such as how much time to allow for your hair up. It also gives us the opportunity to experiment with your ideas. Make sure you have any hair accessories you would on the wedding day.
1 month
Continue to care for your hair, and keep up with treatments that I may have recommended you. A final cut may be needed to keep your ends look sharp. I usually suggest a month to 3 weeks prior to the wedding to give your hair time to settle to a natural relaxed state.
2 weeks
Colour will be done now if you wish to have one.
1 week
Confirm all your appointments with me, if I have not already emailed you. I will ensure your wedding day will run like clockwork. Give your hair another nourishing treatment, but please
do not
do it the night before your wedding. I suggest two days before as I need soft hair on the day.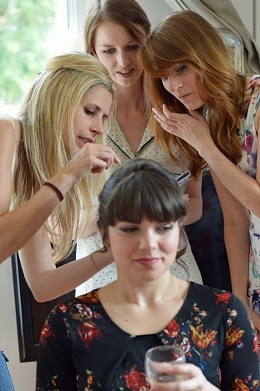 The wedding day
The day has finally arrived. First thing, do not wear anything you have to take off over your head. If I have created an elaborate style, we wouldn't want to jeopardise it. Check you have all the accessories to hand, such as veil or tiara. Also check the florist will be bringing you fresh flowers for your bouquet. I will have everything else for you (grips, clips, styling products), so all you have to do is sit back, relax and hopefully enjoy a glass of champagne.
---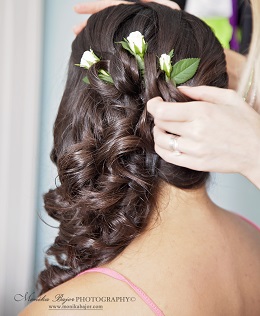 If you need more advice or wish to have your hair taken care of by a professional wedding specialist, then do get in touch.
e:
info@cambridgehair.co.uk